Why Neoprene is the best material for Baby Swimwear
What is Neoprene?
Neoprene is a synthetic rubber material used in almost all wetsuits. Neoprene's popularity comes from its many benefits to swimmers young and old, which you can see below. Neoprene's main selling point is its insulating qualities.
Benefits of Neoprene
Naturally buoyant—the rubber is made with microscopic air bubbles. This means that it is lighter, more flexible, and more buoyant than other rubber materials.


Incredibly durable—neoprene's natural toughness is one of its greatest strengths. Neoprene maintains its flexibility in a wide variety of temperatures and resists damage from a variety of weathers.

Free from latex—latex is well known to irritate the skin, meaning anyone who is allergic has a much more limited choice of swimwear. Neoprene is an excellent alternative for any baby with sensitive skin.

Insulation—neoprene is used for wetsuits mainly because of its insulation. It will keep your baby's core body temperature regulated so they can stay safe, happy, and swimming for longer.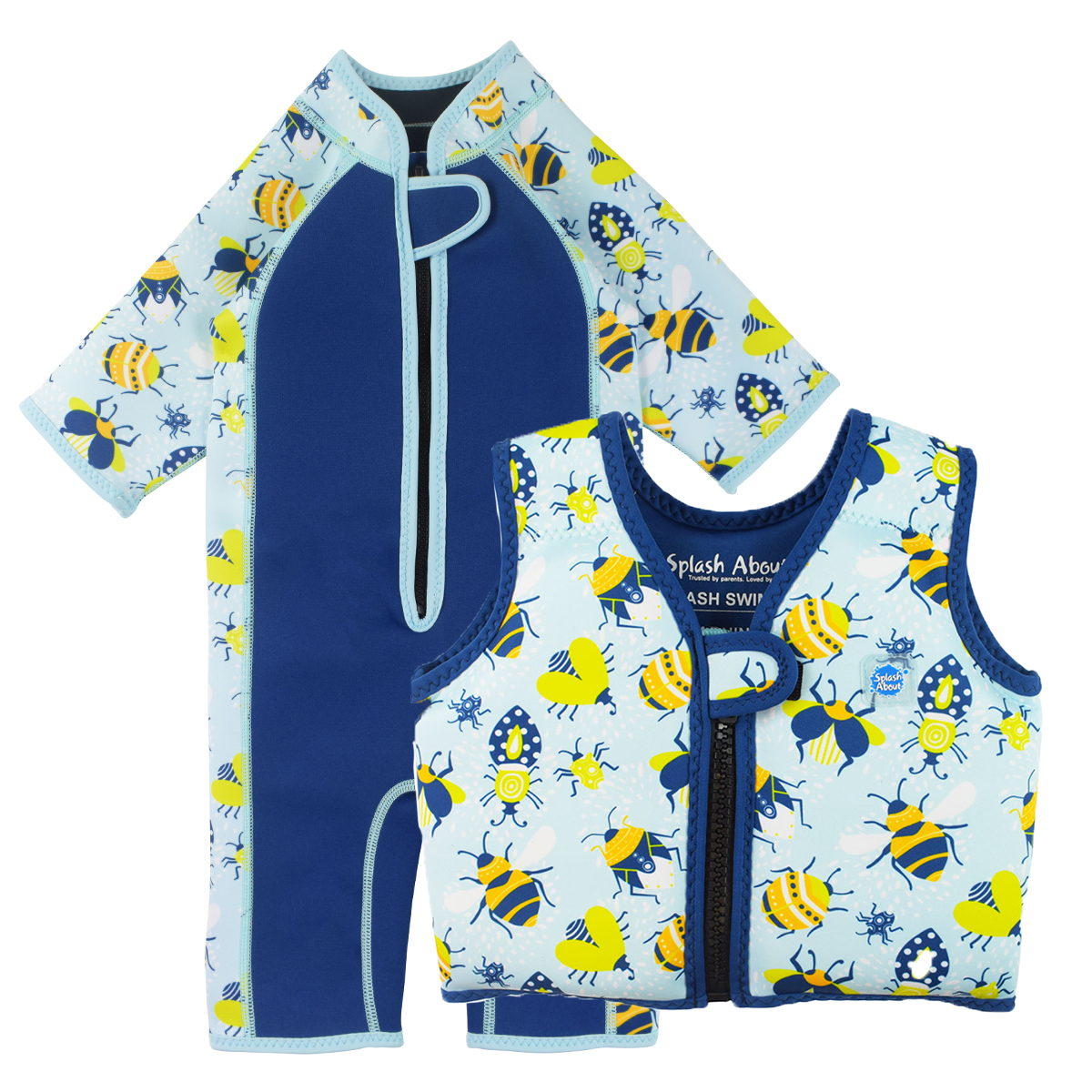 Neoprene vs Polyester fabric
Polyester is another leading material for swimwear. Although neoprene and polyester share many similar traits, there are key differences you should be aware of.
Neoprene

Polyester Fabric

Latex-free?

Some polyester swimsuits are made without latex, but are often more expensive

Insulation

Yes—neoprene keeps core body temperature regulated

Standard wetsuits cover the full upper body and have long sleeves

No—polyester fabric is often thin so provides no insulation at all

UV Protection

Yes—offers maximum UPF 50+ protection from the sun

Yes—although it is not known how protective polyester fabric is, and it does depend on the thickness and knit of the fabric

Durability

Flexibility

Designed for flexibility

Balance between material thickness and flexibility

Thickness provides additional warmth

Yes

Polyester can stretch to various body shapes whilst retaining its shape

Quick-drying

Yes

Splash About's wetsuits are designed by experts for quick-drying

Yes—it is a thin material and therefore dries quicker

Price
FAQs
Is Neoprene safe for babies?
Neoprene is 100% safe for babies because it:
is soft to the touch, so won't chafe

provides insulation to keep them warm during swim time

is naturally buoyant

Is naturally anti-bacterial
Splash About manufactures their neoprene wetsuits to the highest standard.
Is Neoprene expensive?
No.
Splash About's Neoprene Happy Nappy Wetsuit starts from £24.99
How do I clean a Neoprene wetsuit?
Here is our step-by-step guide to washing a neoprene wetsuit:
After swimming, immediately rinse both the inside and outside of the wetsuit with cool/tepid water. This will remove any excess chlorine and saltwater collected during the swim.

Soak your wetsuit in the bath for approximately 20 minutes. You may want to purchase wetsuit shampoo. You can also use mild soap such as your baby's shampoo to remove any bad odours.

While the wetsuit is soaking, scrub it with a sponge.

Dry the wetsuit on a reinforced hanger. Let it dry inside-out first, then the outside.

Store in a cool/dry place
Warning: Never wash your wetsuit in a washing machine. It will be too hot and will loosen the suit's flexibility.
How do I get smells out of neoprene?
When soaking your baby's wetsuit, use a soft soap (e.g. baby shampoo) and scrub particularly smelly areas well. If the smell persists, let the wetsuit soak for another hour and try again.
Is Neoprene breathable?
Neoprene is generally not considered as breathable as other material due to the closed-cell structure of the material. The benefits of a closed-cell structure includes buoyancy and insulation, which makes neoprene a popular choice for swimming.
Splash About uses an incredibly soft neoprene, so your baby's skin stays rash-free. It feels rubber-like and spongey.
Is Neoprene windproof?
Yes. Neoprene is a very resilient material and is resistant to salt, sand, wind, sun and rain. It's considered a safe all-rounder for weather protection.
Does Neoprene stretch or shrink?
Neoprene is excellent at retaining its shape, as long as you care for it properly. Make sure to wash it in cold/tepid water and dry it on a sturdy hanger for it to remain the same size.
The Happy Nappy™ Wetsuit
Highly recommended by swim schools, the Happy Nappy™ Wetsuit offers a fun, leak-free swim. This 2-in-1 baby wetsuit and nappy combination incorporates the Happy Nappy™ with a warming wetsuit in a choice of several colourful designs.
Made from super soft 1mm thick neoprene, the Happy Nappy wetsuit offers UPF 50+ sun protection as well as keeping babies core temperature stable, making it perfect for the beach or the pool.