Drowning Prevention Week 15-25th June 2018
Posted on 15th June 2018

Next week, we see the beginning of the annual Drowning Prevention Week campaign, and to support the Royal Life Saving Society's aim of reducing the number of drowning and near drowning instances in the UK, we're cutting all our buoyancy product prices by 15%! Your child can safely learn all the valuable life saving skills needed when splashing about in and near the water at a lower the cost, just use code DPW18 at checkout to redeem. (see below for full T&Cs).
Does my child need to learn to swim?
Simple answer, YES! Over 700 people drown in the UK and Ireland every year and many more suffer injury, some life changing, through near-drowning experience.
"More people die from drowning in the UK and Ireland than from domestic fires or cycling accidents"- source rlss.org
You can easily protect your child from suffering from the same fate by simply teaching them to swim, either by regularly going to swimming classes or by teaching them to swim yourself. Learning to swim is the best preventative against drowning and the sooner everyone learns to swim the safer we will be.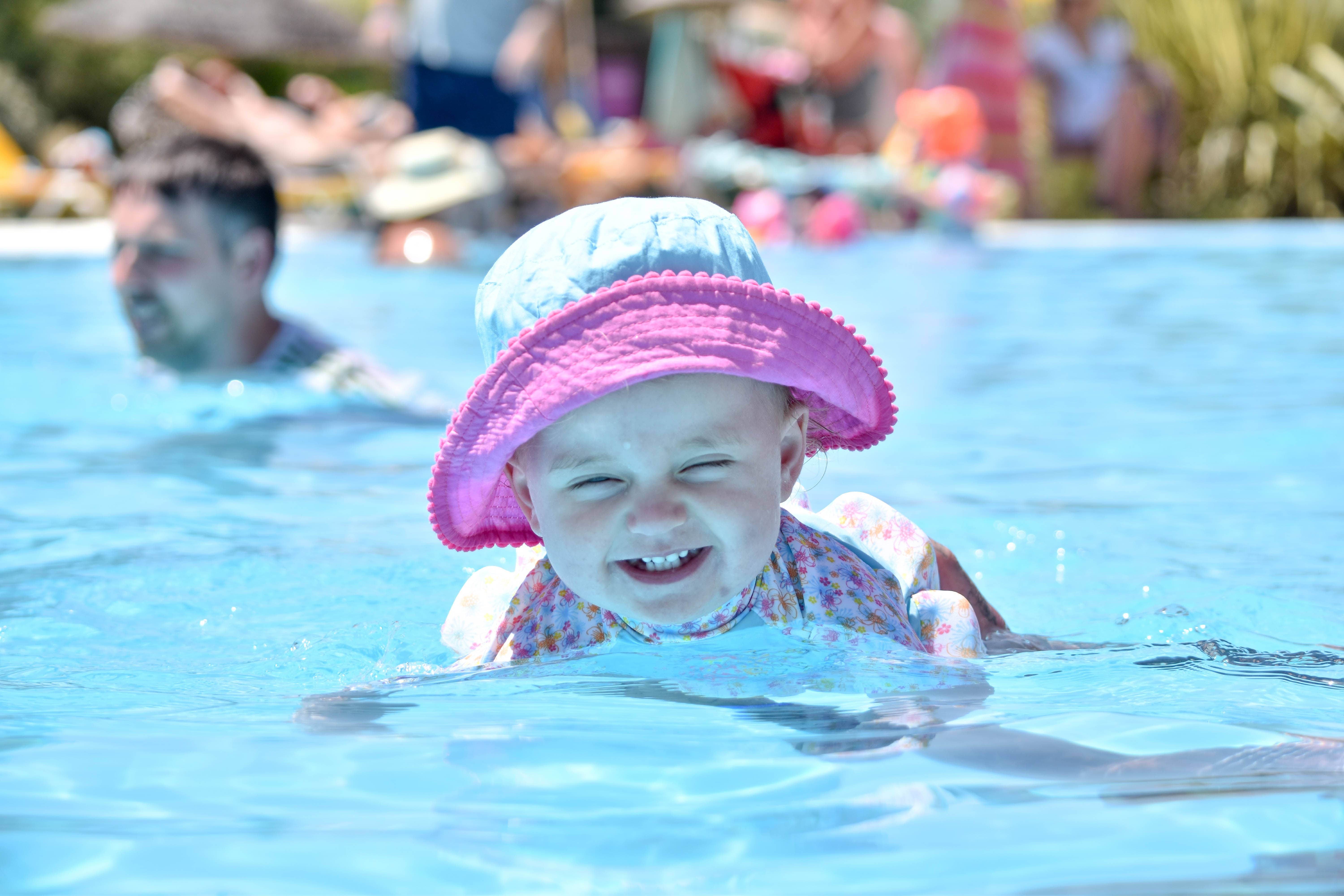 How to stay safe around the water
Stop and think. Look for the dangers and always read the signs
Is there a life guard on duty? Is the environment safe to swim in? Is the environment easily accessible if you need to get help? If the answer is no to any of these questions, just stop and think if this is the best and safest place for you and your family to swim in.
Stay together
There is truth to the saying 'safety in numbers', the more of you there are, the more eyes can be watching for dangers and the safer your family will be. It only takes a few seconds for someone, adult or child, to go from happily splashing about to finding themselves struggling. Stay together and stay aware.
Stay calm and get help
If you ever find yourself or your family in trouble when in the water, the most important thing to do is stay calm. Simply float, don't waste valuable energy thrashing about and struggling against the water, we all have a level of natural buoyancy in our bodies that can keep us above water. Simply float, and reassess how to safely get yourself out of the water.
Call for help
Call 999 or 112 in emergencies and always shout for help so others are aware that there is someone in need of help.
How can I help prevent my child from drowning?
Drowning is preventable and the best way to prevent your child from drowning is to make sure they can swim strongly and confidently.
Here are some very simple ways in how you can help your child become water safe;
Take them to swim classes as early as possible.
There are hundreds of swim schools in the UK that offer fantastic swim classes for babies and children. Use our Find a swim school feature to find your local school- https://www.splashabout.com/swim-schools
Swim as a family
Don't stop swimming after lessons, taking your child swimming can not only build their water confidence and strengthen their swimming skills but it can also build yours too. We have an entire range of swimwear to help take baby, toddler and children to the pool much easier; from our swim school approved Happy Nappy swim nappy range to our pool and changing products that ease changing room tantrums and can get your baby warm, clean and dry in no time, including our Splash Mat Changing Mats and Apres Splash towelling.
Use buoyancy aids to build and strengthen confidence.
Young children often feel scared when in the water, our range of adjustable buoyancy Floatsuits are designed to support your child when in the water by keeping them in the correct position for swimming. Floats can gradually be removed until your child can swim confidently unaided. All our buoyancy products are currently 15% OFF when using the code DPW18 at checkout.
Be aware and understand the water code
Stop and think, stay together, float and always call for help (999/112)
The RLSS do an amazing job at keeping everyone safe in and around the water, for more information on how you can keep your family safe or to support the RLSS go to https://rlss.org.uk
*Terms and conditions; 15% off buoyancy products DPW18 code: only valid on buoyancy products. Cannot be used in conjunction with any other offer. UK delivery only. Offer ends at midnight 25/06/18